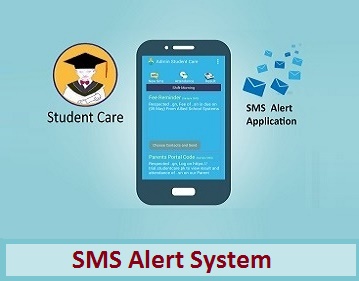 There is an android Application for Admin and Teachers, that can send result Via SMS to parents, Attendance sms to parents, fee reminder via sms and any messasge via sms.
Note: Application sends all SMS from Mobile sim card, using normal sms Package. so you need not to worry about extra sms charges.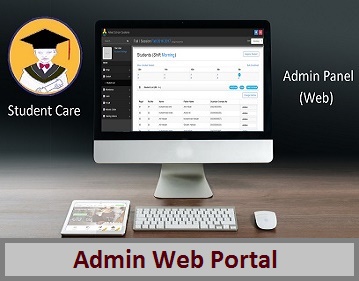 There is a Web Portal for Admin, Teacher, Accountant, Casheir to Manage School & College Record, Student Attendance, Result, Fee, School Or College Expenses etc
Student Care Software
Is Easy to operate, fun to use


Result SMS
Our SMS Alert system let you send Students Result
Via SMS to their Parents Mobile Number

Attendance SMS
Its extremly easy for admin & teacher to mark attendance
of a class and Notification SMS automatically sent on their parents Mobile Number

Fee Reminder SMS
Finance Manager and Cashier can Send Fee
Reminder SMS On Parent Mobile Number with
Due Amount And Due Date

Fee Receiving SMS
Cashier can send Fee Receving SMS on Parents Mobile Number after Receving Fee From Student.

Late Fee SMS
Cashier and Finance manager can send reminder SMS to parents if there dues are still pending after due date passed.

One SMS to All Parents
Admin & Teacher can type any SMS on their Mobile phone
and Send it to All Parents on their Mobile Number
Message can be a Holiday Notification, PTM Reminder, exam notification. it works without internet

Web Portal For Parents
There is a Web Portal facility for parents where they can see complete academic detail of their children. like current and previouse results cards, complete attendance history and progress graph of student in every subject.

Android Appliction For Parents
Student Care application is available on google play store for parents where they can see complete academic detail of their children. like current and previouse results cards, complete attendance history and progress graph of student in every subject.

Multi Branch Management
Student Care Software allow you to manage multiple branches and monitor their progress online.

User Management
Student Care Software allow you to create user and grant software rights according to their job. like Branch Admin, Teacher, Finance Manager and Cashier.

Fall/Session Management
Branch Admin can manage all the record under the fall and sesion like Summer-2018, Fall-19-20 etc

Multiple Shift Management
Branch Admin Can Create Multiple Shift like Morning, Evening etc, and Manage student record under these shifts.

Subject Management
Admin can manage subject list like add new subject, update existing subject name etc.

Classess & Section Management
Admin can add their own classes and sections name, like Class 10th Section A, Section B etc

Student Record Managmenet
Admin can add new student record, update student record and delete student record.

Student Enrollment
Admin have the right to change a student class, section and rollno at any time, and admin can also discharge a student and View complete enrollment history of a student.

Exam & Result Managment
Teacher and Admin can Create Different Exam like December Test, Monthly Test etc
Teacher can add student Marks and System automatically generate
Result Cards
,
Accomulative Result sheet of Class
,
Students Positions
,
Result is automatically uploaded on Parent Portal
,
Progress graph generated for every subject
,
Result can be send to parents via SMS on their Mobile Number

Result Comparison
Admin and Teacher can compare two exams and analyse over All Class performance, Subject Wise Class performance and Indvidual Student wise Performance.

Target Grades
Continues Improvement in student peformance is compulsary, for acheiving this goal you can assign target grades to students and system will show you weither students reached their target or not.

Student Progress Report
On The basis of daily attendance and student result, system creates student progress report automatically, it helps admin to monitor student performance easily

Fee Invoices
Fee invoice and challan generation is extremly easy with our fee managment system.it create thousands of student challan form just on few clicks, you have complete freedom to add any fee in student challan. like
Books
,
stationary fee
,
Party fund
,
Generator Fund
,
Transport Fee
etc

Fee Challan
System generate three copies of challan form (Student Copy/Bank Copy/Office Copy)

Concession & Scholorship
Admin and Finance Manager can give concessession and scholorship to students and this amount automatically deducted from student challan.

Fee & Fine Collection
Cashier/Finance Manager can collect fee & fine from student and marked paid against student name and fee receiving sms will be sent on parents mobile number automaticlly.
fine is automatically calculated on the basis of given fine policy.

Student Fee History
Admin can view complete fee history of student at any time

Add Daily Expenses
Admin and Findance Manager can add Daily Expenses against expense Heads like stationary expense, Utility Bill, Advances Salary, Building Rent etc

Expense Reporting
After Adding Daily Expense you can view expense roports on be basis of given date.
Daily Expense Report
,
Weekly Expense Report
,
Monthly Expense Report
,
Ledger
Want to Improve Effeciency of Your School?
Try Student Care
Our Success Story
Our Achievement

35000
Happy Parents

100000
Deliverd SMS

Result Improvment

Attendance Improvement